±Forensic Focus Partners
±Your Account
Site Members:
| | |
| --- | --- |
| New Today: 3 | Overall: 36445 |
| New Yesterday: 2 | Visitors: 158 |
Back to top
Skip to content
Skip to menu
Back to top
Back to main
Skip to menu
Recover data ... Stuck in Recovery - iPhone 3GS
Page 1, 2 Next
Newbie

Posted: Oct 09, 14 20:39
So I've been attempting to get data from a iPhone 3GS. The iPhone failed an upgrade to a newer version of iOS. Now it displays the familiar "USB cable image with iTunes logo" ... when connected to iTunes it wants to restore. We have not done the erase/restore.
Instead we have been attempting to "kick" it out of recovery mode. We used TinyUmbrella as this is usually successful. However, in this case it has not been.
This is what I see in TinyUmbrella: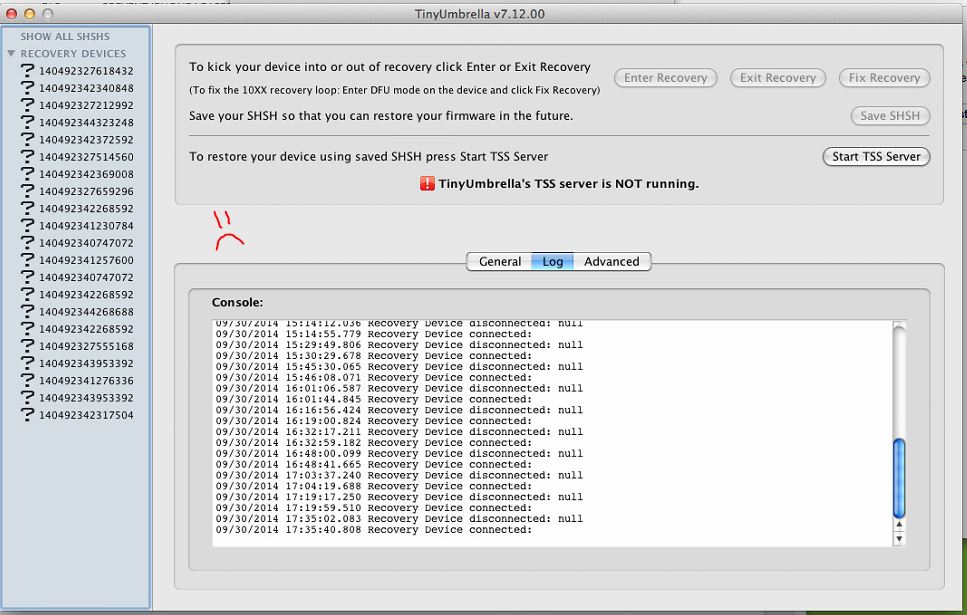 It just keeps looping in a "Exit Recovery" attempt.
I'm looking for some alternatives tools or techniques to pull the photos from the device.
Senior Member

Posted: Oct 10, 14 06:19
I'm assuming you don't have XRY, Cellebrite, iXam or any of the tools capable of dumping the phone memory?
I'm sure there is a way to take a dd image of the phone memory with some free tools, not sure how to go about that one though but I'm confident someone here will if your googlfu fails you
Member

Posted: Oct 10, 14 20:50
What you are talking about seems very common with a jailbroken iPhone of the time. Specifically, it sounds like a tethered jailbreak. Since it is currently stuck in the the apple logo, I am not sure how you can check if Cydia was installed, without re-jailbreaking it. However, I cannot recommend that as you run the risk of jailbreaking a phone that may not have been jailbroken, which would delete all your data.
Things like XRY, Cellebrite, iXam will probably work as well as photorec. However, if you also have a computer that may have been synced with that iPhone, you may want to just check if a back up was made first, as it is probably easier to extract photos from there at this point, though you will have to check if the last back-up is actually up to date.
Also, I'm sure you already know this, but a 3GS does not update to iOS 8; I think its last update is at some version of iOS 5. And because Apple like to stop signing their stuff after a new update comes out, you may want to download one somewhere else on the internet and install that.
Hope that helps!
Senior Member

Posted: Oct 13, 14 15:16
If the phone is stuck in recovery you can try restoring it to a fuction'ing state using iRecovery and the following commands
Please note that iRecovery works best on an XP machine and requires lib usb windows drivers
iRecovery -s (accesses the shell commands)
When you access shell you should see a $ symbol
Type the following commands:
setenv auto-boot true
saveenv
/exit
This has fixed a few dead stuck in recovery 3gs devices for me
Hope this helps
Newbie

Posted: Aug 11, 15 14:45
Member

Posted: Aug 22, 15 05:47
- mtech

I'm looking for some alternatives tools or techniques to pull the photos from the device.
I agree with
Adam10541
: find someone nearby with a tool like Cellebrite. It will be enough to recover everything from the 3GS you described and fee should be very reasonable.
Member

Posted: Oct 22, 15 18:22
Try switching the phone into DFU mode. If you are able to do that, Elcomsoft iOS Forensic Toolkit should be able to perform the full physical acquisition on this device. iPhone 3GS is old, and compared to today's devices its data protection measures are basically non-existent.